The design of clean rooms is done in accordance with GMP standards and government regulations. We suggest producers of "clean rooms" with whom we have business relations, but we are working with other producers in the proposed investors.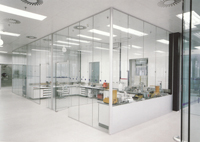 After installation and training of HVAC systems, along with the investor, we organize and implement a qualification of IQ / OQ "clean rooms".
PharMedica has business relations with the world famous manufacturer of clean rooms -  "CLEAN-TEC ® "